FOR INFORMATION ABOUT OUR 50TH ANNIVERSARY CELEBRATION, PLEASE CLICK HERE.
Mount St. Joseph is a seminary and novitiate of the Oblates of St. Joseph located in Loomis, CA. We are home to priests, brothers, and seminarians of the Oblates of St. Joseph. Our primary mission is the formation of young men who are being called to be part of our religious family, but we also proudly support St. Joseph Marello parish in Granite Bay, CA, as well as operate Marello Youth Retreat Center, one of the most active youth retreat facilities in the Diocese of Sacramento.
---
Latest News
August 14, 2014
by Fr. Matthew Spencer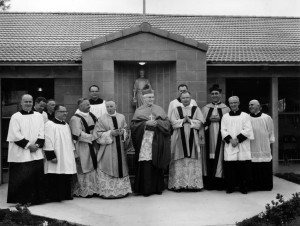 This year marks the fiftieth since since the dedication and opening of Mount St. Joseph. To commemorate these 50 years of blessings the Lord has given to us, we are excited to invite you to a special anniversary celebration.
The event will take place on Friday, September 12, beginning with Mass at Mount St. Joseph at 5:00 PM. We are honored to welcome Bishop Jaime Soto who will preside at the Mass. Also with him will be the Provincial of the Holy Spouses Province, Fr. Paul McDonnell, O.S.J., along with other visiting Oblate priests from the Province.
After the Mass, we will host a light reception and social.
We hope you can join us for this historic event. Your RSVP is most appreciated. Please email anniversary@mountstjoseph.org with your name and the number of adults and children in your party. Or you may also call or text (916) 234-3853 with the same information.
All festivities will take place at Mount St. Joseph, 6530 Wells, Ave., Loomis, CA 95650.
Thank you, and may God bless you!
March 28, 2013
by Fr. Matthew Spencer

Many thanks to all of the people who worked to put together the Spring 2013 SLJM newsletter. Click here to read it now!
We are happy to feature messages and news about Fr. Paul McDonnel, Fr. James Catalano, and of course about Mount St. Joseph the Oblates and laity collaborating together. Many blessings to you, and enjoy the newsletter!

December 16, 2012
by Fr. Matthew Spencer

It's hard to believe that we have arrived yet again at the first day of the Christmas Novena. As we prepare to celebrate the birth of Christ, the Oblates share with our friends and families a special tradition that we have observed from the beginning of our Congregation: a sung Christmas novena in preparation for Christmas. Enjoy!
February 22, 2012
by Fr. Matthew Spencer

All of us Oblates at Mount St. Joseph would like to wish our friends and benefactors a very blessed Lent. May these forty days in preparation for Easter be a time of fruitful renewal in your spiritual and moral life!
December 16, 2011
by Fr. Matthew Spencer

Although we will not be hosting the Christmas Novena at Mount St. Joseph this year, we still invite you to join us spiritually in this preparation for Christmas. We have posted the full novena on our Resources page for you to download and print if you are interested.
December 4, 2011
by Fr. Matthew Spencer

We have added a page with audio files for helping learn the new settings of the Mass in English. Check out our Liturgy Resources page to listen, download, and practice!